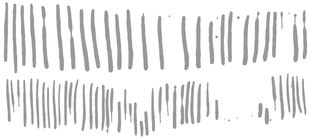 [image: I attempted to draw two sets of straight, simple, consistent lines. Shown are the various errors that occurred by the end.]
My tablet's pen pressure is glitching randomly. It seems to have no pattern as to when it glitches, but it tends to worsen the longer I use the tablet. (Using it for too long isn't the problem- it starts up only a minute or two after I turn it on.) The glitches cause it to sporadically either not draw the line at all and only draw a dot, or cause the brush size to become very tiny for small lengths at a time.
It's making drawing consistently almost impossible. I've tried many different fixes, including reinstalling tablet drivers, resetting various settings, turning off Windows Ink, doing just about everything imaginable to try to fix this, to no avail. I'm at a loss. If anyone has any help or advice or even just suggestions please let me know.
I'm sorry if the formatting on this isn't ideal, I'm new to these forums. I actually joined solely because I don't know where else to turn with this, haha.